With Easter coming up soon – this year it falls on Sunday 1 April – it's time to get ready for your Easter lunch. This is the perfect time to gather your friends and family to celebrate Easter and Spring. Whether you opt for a classic lamb dish or a fresh green salad, we're here to give you the perfect pour. Here are some of Ideal Wine Company's favourite wines to serve at Easter lunch.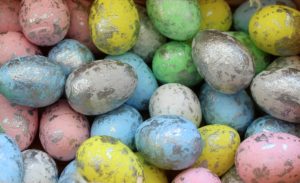 Lamb – Cabernet Sauvignon
For spring and Easter, the quintessential dish has to be lamb. Coming into season at this time, it's a popular dish that you can expect to see on many tables. As lamb is a strong meat in flavour, you'll need to look for a wine that can match it. For this, a Cabernet Sauvignon is your best bet. With this wine, you can expect a tannic, full-bodied red that can stand up to the strength of lamb. The richness and texture of the meat will be complemented by the ripe plum and earthy flavours with hints of chocolate. A great choice to break out this Easter!
Glazed Ham – Pinot Noir
A glazed ham is synonymous with sweet and sour flavours. The saltiness of the ham is usually in perfect balance with the sweetness of the glaze. When it comes to pairing your wine with this, you'll want to make sure you're not interrupting this relationship. Try opting for a Pinot Noir, which should help to provide the perfect stability you're looking for. This wine's low tannins and high acidity is the perfect complement to the ham. With cherry fruit flavours and a little spice on the palate, a Pinot Noir continues the harmony between sweet and sour.
Fresh green salad – Assyrtiko
With spring finally upon us, it's time to bring together all the amazing fresh produce we can get our hands on. This means greens – and what better way to showcase them than with a fresh green salad. Combining the freshest green vegetables on offer with a light lemon vinaigrette, this is an ideal dish for Easter lunch. To bring out the freshness of the salad, the best accompaniment is Assyrtiko, a white wine from Greece. This light and crisp wine offers bright flavours, bracing acidity and an elegant mineral character. A truly refreshing choice.
Lemon tart – Muscat
No celebratory lunch is complete without pudding! For Easter, a lemon tart is the perfect option. Combining sweetness, slight tartness and a light finish, this dessert brings out the flavours of the season. When pairing wine with this tart, look for a Muscat. With fruit flavours including citrus, lime, kumquats, confit of orange zest and green pineapple, it is a refreshing burst of flavour. The richness on the palate, with its vibrant acidity, will lift and support the lemon creaminess. It's the perfect way to end your meal.
Easter is all about light spring dishes. Make sure to keep all your flavours balanced with each other and remember that refreshing options are usually your best choices. With your perfect pour in hand – it's time to celebrate Easter!