Historically, the UK may not be famous for its wine production, but that's set to change. This year, British wine producers will plant a record one million vines, which will give growers the tools to make two million more bottles of wine a year. Ideal Wine Company delves into the revelation.
It's clear that wine is now one of the most impressive and fastest improving agricultural products in the country. During the last decade, according to reports from the English Wine Producers trade body, the grapevines planted in England and Wales have increased by around 135 per cent.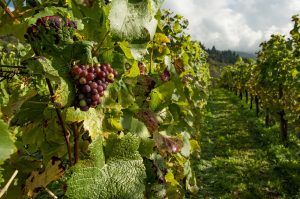 New planters all over the south of England
One of the biggest new vineyards is at Rathfinny wine estate in East Sussex. Close to Afriston, this vineyard has around 400 acres currently under cultivation. It's owned by Mark Driver, who used to be a hedge fund manager in London. He intends to release the vineyard's first sparkling wine next year (2018).
Other new planters include two huge champagne houses from France, Vrankin-Pommery Monopole and Taittinger. They've announced big wine projects in the south of England in Hampshire and Canterbury.
New UK wine awards introduced for 2017
Due to all of these exciting innovations within the UK, brand new annual wine awards have been introduced. Aimed at finding the UK's finest wines, the awards are another sign of the industry's prosperity.
One of the world's biggest threats seems to have helped improve the growing season in England – global warming. The industry is now viable across the south of England, in some parts of the east and as far as Wales. It's not the only reason that vineyards are able to be planted now though.
Technology is improving all the time and this is a big factor in the industry's expansion. Wine growers use meters that can work out grape sugar levels so that wine growers can decide the best time to harvest the grapes. Better weather reports due to improving technology in that area also help the growers and wine makers to work within the famously changeable weather systems in the UK.
Consumers happy to spend more on UK wines
There's also been a move from consumers to buying more expensive wines, meaning people are happier to buy English wines, which typically start at £10 a bottle. Typical prices for the best sparkling wines, like Nvetimber from West Sussex, sell for around £35.
UK wines have been selling more and more since 2000, with top tier supermarkets such as Marks & Spencer and Waitrose now stocking dozens of different Welsh and English wines. Restaurants are helping the increase in sales too, as English wines are becoming more popular across the board.
Rob Graves is the head of wine and food buying at Harvey Nichols, arguably one of the finest retailers in England. He said: "Sales have been steadily increasing since 2011, but in 2016 we saw a peak in interest. Our customers are hugely supportive of this category and are keen to taste wines from lesser known producers." Harvey Nichols has recently added four new producers and 15 new English wines to its shelves, from Litmus and Witson, Hattingley Valley and Gusbourne.
It seems the UK wine industry is set to grow and grow.