Tuscany is a beautiful place for a holiday, particularly if you're a wine aficionado. There's something magical about the rolling Tuscan countryside, with culturally rich cities sitting in among ancient greenery. Ideal Wine Company discusses why this is a perfect getaway destination.
And, to create a holiday destination perfect for people who love both northern Italy and wine, a new wine 'town' has just opened in Bolgheri. Situated on the Tuscan coast, this 'World Wine Town' offers tastings, restaurants specialising in wine, self-catering apartments and even holograms of Italian winemakers.
The wine resort opened last month (June 2017) in the recently restored farm estate of Casone Ugolino. It's taken 15 years to develop and cost €12 million, which came from banks and private investors.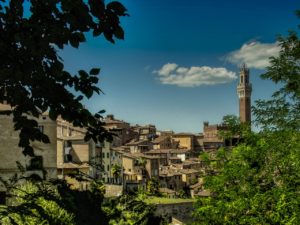 Museum central to wine town
A wine museum is situated just on the edge of Castagneto Carducci. This three-storey celebration of the region's wine history boasts the holograms of Gaddo della Gherardesca, Niccolo Incisa della rocchetta and Piero Antinori, all presenting stories of their wine making family history.
The huge museum space was designed by Academy Award winner Dante Ferretti and promises to wow visitors. The museum costs just eight euros to get in, and of course this includes a wine tasting.
Plenty to taste and try
There are three restaurants in the resort, including a faithful reproduction of an Old Tuscan inn. For a real taste of the old world you can eat at Osteria Vinality, or go for Mercato del Borgo, which serves up very local food.
All of this is ideal for the wine lover's perfect holiday. They can even stay in the self -apartments and use this wine town resort as the base for their Tuscan holiday – if they can bring themselves to leave its grounds that is!
The resort is planning to open a wine education centre in 2018, to catch the interest of the next generation of wine lovers.