As a general rule, most of us accept that red meat works best with red wine. As red wines are usually heavier in body and have a bolder taste, it is usually our first choice to match the richer taste of red meat. But with so many varieties of both red meat and wine, what should you be serving with each type of red meat? This week, Ideal Wine Company is bringing you our favourite suggestions for serving wine with red meat.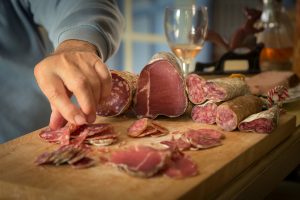 Lean meat – go light
Due to the higher tannic value, alcohol content and antioxidant density, bold red wines are perfect for red meat. The fat content of the protein-dense food takes us a while to digest and is, therefore, best met with a heavy red wine. A rich cut of red meat, such as a prime rib, pairs nicely with a bold and high tannin red wine, such as a Cabernet Sauvignon.
Should you be using a relatively lean cut of red meat, try using a wine with lower tannins and a lower alcohol percentage. A rule worth remembering is the leaner the meat, the lighter the wine.
Lamb requires delicacy
Unlike most other red meats, lamb is delicate in both flavour and texture. As a result of this, you'll want to adjust your wine match slightly to accommodate for this. Selecting a bolder red wine with a smoother tannin should work well. A Syrah or a Malbec are perfect options for lamb.
A top tip to remember is that lamb often takes on the flavour of any sauce that is paired with it. This means you should pay close attention to whatever sauce is being served with the meat before choosing your wine.
Match the intensity
When it comes to pairing beef with wine, there are several variables that must come into consideration. With so many ways to serve the meat, this can alter your wine selection drastically. For leaner cuts of beef, look for a light or medium-bodied red wine. These should have a slightly higher acidity that is useful for cutting through the texture of the lean meat.
For fatty cuts of beef, look for a bold red wine with high tannin. As tannins are astringents that work as a palate cleanser, these tannins help to lighten your palate between bites. Our top choices for serving with fatty meats are wines like a Barolo or a Napa Cabernet.
Should you be serving your beef in a stew, you'll want to match the intensity of the dish with a wine. For example, a top sirloin beef stew works perfectly with a slightly bolder, medium red. A Sangiovese is an excellent choice.
It's all about the sauce
If you're serving your red meat with a sauce, this becomes an important aspect to consider. These can drastically alter the taste of the meat and can even open up a wider range of wine for you to choose from.
Tangy sauces: Let's take BBQ sauces for example, look for a fruity red wine. Lambrusco, Shiraz, Syrah, Zinfandel, Primitivo and Negroamaro are all good starting points.
Green sauces: Whether this is a mint sauce or a chimichurri, look for fruity bold red wines with smoother tannins. Try opting for a Malbec or a Monastrell.
Tomato sauces: The classic Italian Marinara sauce is often paired well with red meat. If you're serving a tomato sauce, a medium-bodied red with good acidity is perfect, such as a Sangiovese, Merlot or a Bardolino.
White sauces: Creamy white sauces offer a variety of pairing options. From peppercorn sauce to a Béchamel, you'll want to base your choice on the strength of the sauce. A peppercorn sauce works well with Cabernet Sauvignon or Shiraz, due to their peppery notes. A Béchamel requires a medium-bodied red, such as a Valpolicella Ripasso. The power of the white sauce is key here, so it's worth considering how powerful your sauce will be in the dish.
No matter how you're serving your red meat, red wine will always make the perfect accompaniment. Match your intensity and concentrate on how lean your dish is and you'll enjoy the perfect pairing!