Sparkling Prosecco is more popular than ever, with plenty of bottles being quaffed all through the year. No longer just for celebrations, it's taken its place as one of the most popular alcoholic drinks in the UK, Ideal Wine Company review the nation's favourite bubbly.
This ever-increasing market has also led to an increase in producers, styles, flavours and the number of vineyards needed to meet the demand. But what makes Prosecco so popular and why does it taste so good?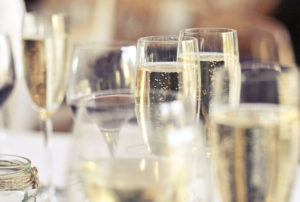 Location, location, location
The key flavours in Prosecco come from its grape variety, the production method and, crucially, the location of the vineyards. The Italian favourite is grown in a huge area in north-east Italy, which covers hills, valleys and land just inland of Venice.
With an area of 20,000 hectares up until last year, when another 3,000 ha were added to try and keep up with demand, the region is vast. However, it's still smaller in size than Champagne, which covers 33,000 hectares and is therefore a third larger than Italy's Prosecco producing area.
Larger output than Champagne
While its area might be smaller, the region produces more bottles of Prosecco than Champagne manages. In 2016, it produced almost 475 million bottles, significantly more tan the average production of the Champagne region of 320 million bottles of fizz.
This is mostly because the climate in Champagne results in lower yields per hectare. The region contends with frost when the crops are flowering and battles bunch rot during harvest, while Italy doesn't have the same problems. There is also a very strict process of regulation in Champagne, which further restricts the number of bottles produced.
Best Prosecco areas
The most productive areas are the hills of Montello and Asolo, the regions of Conegliano and Valdobbiadene and the slops of Cartizze.
The grape variety used is also important for the distinct and more-ish flavour of Prosecco. The region took its name from the grape which was known as 'Prosecco' until 2009, when it was changed to 'Glera'.
This was part of a move by growers to protect the region and the product. They registered the word 'Prosecco' as a DOC (Denominazione di Origine Controllata). It was registered with the EU as Prosecco DOC. This effectively means that anyone who grows the Glera grape (which used to be known as Prosecco) outside of the DOC, cannot sell it as Prosecco within the EU.
Floral and fruity
The Glera grape results in a wine with the floral-fruity flavours that we know and love from Prosecco. Most commonly you'll find aromas of pear and apple, and when really ripe melon and peach.
Other grape varieties are allowed to be used in making Prosecco. These include Pinot Grigio, Chardonnay and Pinot Bianco, but legally all Prosecco must have at least 85 % Glera.
How it's made
Most Prosecco is made using the Charmat method (also known as the 'tank' or 'Italian' method. It goes through a second fermentation in a stainless-steel vat and is then bottled under pressure. This is what gives Prosecco its fizz.
Generally, this method gives a fruity, sweet and pleasing sparkling wine, which should be drunk while young. And it's all of these reasons that make Prosecco the favourite, particularly in the UK, which accounts for a third of all sales.