Global warming is changing approaches to agriculture and wine growing all around the world. And nowhere more so than in California, which has recently emerged from a devastating five year drought. Ideal Wine Company investigates into the matter.
While the drought is over in many areas, the urgent need to combat expected future droughts is mounting.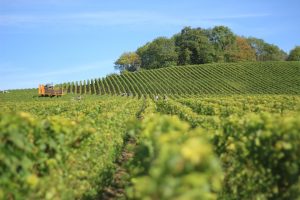 Drip irrigation being tested
Wine growers and researchers are working hard to work out ways to grow crops using as little water as possible. One possible solution is subsurface drip irrigation, which places a tiny trickle of water specifically at the roots of the crop. By preventing evaporation, it ensures all the water is used where it's needed.
So far, it's being trialled across grain growing land in California in conjunction with the University of California and appears to be working.
Agriculture affected
Vineyards and farms are enjoying a bit of breathing space after the winter brought record rainfall, finally leading to full surface water for irrigation purposes. But scientists and the industry as a whole are under no illusion that a similar drought won't happen again.
Spencer Cooper is California's new senior manager of irrigation and water efficiency. He said: "We're working right now to try to develop more precision irrigation systems and help growers irrigate on a smaller scale."
It's not only California's wine industry that's at stake. California boasts 80,500 farms, which provide almost three million jobs and irrigation is at the heart of its success. Around a third of California's 25 million acres of working farmland is irrigated.
When will the next drought be?  
While research is ongoing, it's possible there isn't much time left before the next drought hits. There have been two extremely severe periods of drought over the last decade. Stanford University scientists have said that the drought is 'very likely' linked to global warming and they expect droughts will become more frequent, last longer and become more severe.
The last drought devastated the agricultural industry, costing more than $5.2 billion. Around 40,000 agricultural jobs were lost and 1 million acres had to be fallowed. Although groundwater pumping was employed on a massive scale, this isn't sustainable long term.
Scientists, wine growers and the wider agricultural industry agree that lessons have been learned, and growers will be more prepared next time. Precise irrigation, where plants are given a small amount at the root seems to be the best way forward.