There's a special day for everything these days, and everyone's favourite sparkler Prosecco is no different. This year's National Prosecco Day fell on 13 August 2017, and was celebrated in style, particularly in New York. Ideal Wine Company discover what's so tasty about this year's National Prosecco Day.
Ruffino, the major Italian winemaker, got together with The Doughnut Project to come up with a match made in heaven – Prosecco flavoured doughnuts.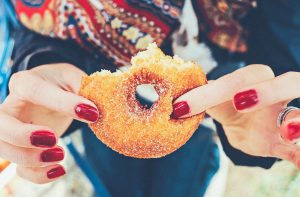 Cocktail infused doughnuts
A series of cocktail themed doughnuts had already been showcased celebrating New York bars by The Doughnut Project, so they were the obvious choice for the Prosecco version.
Co-owner of The Doughnut Project, Leslie Polizzotto, says: "We've done many alcohol infused doughnuts in the past. Because of our track record, we were approached by Ruffino to do a Prosecco doughnut in honour of National Prosecco Day on 13 August."
Limited sale window
The tasty treats were on sale at The Doughnut Project's shop on West Village Morton Street in New York until 20 August. They predictably went down a storm with New Yorkers.
The Prosecco doughnut is the latest in a long line of products aimed at bringing the fizzy favourite 'out of the bottle'.
Prosecco popsicles
Earlier in 2017, a UK based company called Pops created Champagne and Prosecco Bellini flavoured popsicles. Also on trend were a variety of sparkling wine infused products including wine lollipops and gummy bears flavoured with rosé.
It's no surprise that Prosecco has captured the hearts and minds of consumers happy to buy spin off products. A survey taken recently by the Wine and Spirit Trade Association (WSTA) showed that a whopping 97% of those interviewed between the age of 18 and 24 drank Prosecco.
The report also showed that sales of the popular wine leapt by 12% over the last year. Even more impressive, a survey by accountancy group UHY Hacker Young taken in 2016, showed that sales of sparking wine throughout the UK increased by more than 80% from 2011-2016.
Increased consumption is expected to continue with predictions of an increase of around 19% by 2020.