As the nights get colder and darker, and with more time spent inside and socializing with friends and family, it's time to reach for a more comforting choice of wine. We tend to shift away from the rosé and stainless-fermented wines, leaning towards heavier, oak-aged varieties. The plummeting temperatures are a natural accompaniment to fuller-bodied reds and fortified wines, perfect for fireside nights and comforting, slow-cooked meals. From generous reds, for pies and stews, to warming fortified wines, Ideal Wine Company have a few tips on what to drink this winter.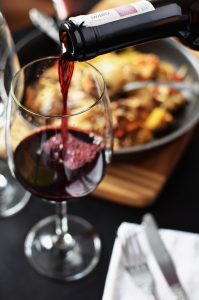 Rich red wines
Unquestionably, red wines are an instinctive choice for this time of year. Big, rich red wines, usually with a higher alcohol content, are the most popular option. The major elements you'll find in these wines are fruit, tannins and alcohol, with this interplay being key to the success of the wine. Not all big reds are the same, differing on their reliance on subtler fruit, warming spice or even strength. From this, we've created a list of popular wines to try:
Cabernet Sauvignon: with this classic choice, you'll -get classic flavours of dark berry. These blackberry and blackcurrant notes will be complimented by chocolate and toffee. This luxuriousness is balanced out by medium tannins and a hint of spice, which make it a delicious heartening option.
Malbec: unsurprisingly, Malbec makes most lists of big red wines. With a smoky and rich taste, complimented by dark blackberry and blackcurrant, this dark red gives earthy and plush aromas. The structured tannins and warm oak lend itself to a bloom of spice on the finish, making it no surprise this wine is a firm favourite for winter months.
Rioja: another structured and fruity wine, Rioja provide a lot of character. The ripe plum and berry taste is balanced by its moderate tannins, spice and cocoa. A perfect wintery choice.
Balancing fortified wines
Making the perfect addition to winter food, fortified wines get their extra alcoholic kick through the addition of another spirit. They are great choices for balancing out the season's sweet food, with rich flavours such as toffee, coffee, nuts and spices. Our recommendations include:
Amontillado Sherry: part of the anti-sweet wave, this sherry promises a subtle, bitter finish that will cleanse your palate of any overly sweet festive food. With tastes of toasted walnut, burnt sugar and bitter orange peel, this sherry is perfect as an ending to a meal or to accompany a sweet treat.
Rasteau Vin Doux Naturel: this sweet red wine is made of 90% Grenache and is the perfect pairing for chocolate. Through its notes of sweet raspberry, exotic spices, cocoa powder and Darjeeling tea, this perfectly matches so many winter comfort foods. From chocolate treats, such as truffles and yule logs, to blue cheese, this warming choice is always sure to be a hit.