What better way is there to ring in the New Year than with friends, family and a good glass of wine. No matter what your preference is, see out the year in style. From reds to white to sparkling, Ideal Wine Company has amazing suggestions for the final party of the year!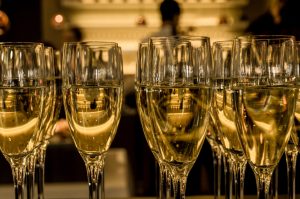 Champagne – synonymous with celebrations
The ultimate celebratory tipple, champagne really is a great way to toast the new year. Whether you're heading out to a party or staying in, this full-bodied wine with a rounded sweetness is a perfect choice. Its citrusy freshness adds a complexity to a fruity expression. Try a dry option if you don't want something too sweet. Alternatively, you could try other sparkling wines if you want to break away from the seasonal norm. Prosecco, for instance, is less intense than its French counterpart and pairs well with light cheese and dark chocolate. Perfect for parties.
Unusual red blends – an adventurous change
This party season, why not try something completely new? A blend of red wine brings together all the flavours you look for in a wine into a surprising yet delicious glass. These create a memorable experience for all who try them, the layers of depth, complexity and rich flavours offering a twist on a classic. Try expanding your blend choices. A classic Cabernet and Merlot blend always goes down well. But if you're feeling adventurous, the unique blend of Zinfandel, Tempranillo, Petite Syrah, Touriga Nacional, Mourvedre, Grenache, and Cinsault currently gaining popularity is sure to be unforgettable!
Pinot Noir – a go-to for elegance and refinement
New Year's Eve is a time to enjoy the classic staples done well. This light-skinned grape offers a less intense red that pleases both red and white wine drinkers. Offering an exotic bouquet of ripe red fruit, Pinot Noir is a graceful addition to any party. Notoriously difficult to perfect, a well-made Pinot Noir is a truly delicious and memorable choice. Try finding a vintage from 2010 or 2012, both of which were good years for this variety.
Vinho Verde – a refreshing option
Gaining in popularity over recent years, Vinho Verde is perfect for those who enjoy a crisp and refreshing glass. This Portuguese white is light, fizzy and easy to drink. Look out for the more serious versions of the wine being created. These textural and dry offerings often include notes of citrus and pear. As a lighter option than most, this wine is perfect to enjoy with a heavier New Year's Eve meal or if you want to stick to a less intense option.
This New Year, find a wine to suit your palate that mixes well with a variety of foods. Whether you want to toast to 2018 with unexpected red or white, or a classic glass of sparkling wine, there's a wine out there to keep everyone happy and in a fine celebratory mode!