You know Christmas is close when you're enjoying a warming glass of hot, fragrant mulled wine. The traditional festive beverage, usually made with red wine together with various mulling spices and raisins, can be served hot or warm. With its heady aromas of sweetness and spice, this fruity drink is synonymous with Christmas. While it is a treat that many can't wait to enjoy, it can be difficult to perfect the right balance of flavours being a struggle for many. At Ideal Wine Company, we've gathered our top tips to help you make sure your mulled wine is a winner this winter.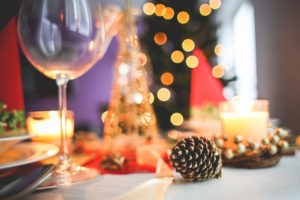 How do I make mulled wine?
Start with a classic recipe – there are hundreds available free online – and they're easy to follow. While you're looking make a note of the spices used in them. The more traditional mulling spices are cinnamon, star anise, cloves and nutmeg. But others also include allspice, bay leaves, cardamom, vanilla or ginger.
What wine should I use?
One of the most common questions for how to make mulled wine is what type of wine you should use. While there are many varieties that can work, we know that it is best to look for certain characteristics. The ideal reds to use are young, bright, fruity and unoaked. These will create a good base to build on, while still bringing a rich taste. We recommend using very fruit driven wines, as these tend to make the best mulled wines. Try using an Italian red, a Southern French or New World Merlot. A Shiraz would also be a wonderful choice.
It is also worth noting that quality is important. Always use a wine that you would enjoy drinking. However, it may be best to avoid anything too expensive, as the spices will overpower the subtlety of the wine and that would be a waste.
What flavourings should I use?
After you've chosen your wine, add sugar or honey to sweeten it, but be careful not to use too much as overly sweet wine can become overwhelming quickly. Then you add your spices to give it festive flavour. These should include cloves, nutmeg, cinnamon, star anise and ginger. Make sure you're careful when you put in the spices – a little at a time so that it isn't too strong – you can't take it back out again. Try gathering the spices in a muslin cloth to avoid small floating spices in your drink.
In addition to these classic flavours, try adding a spirit to compliment the flavours. You could add sloe gin, Cointreau or Grand Marnier for added kick.
How do I mull wine?
When you've added your spices, it's now time to mull your wine. The time spent on the heat is very important. You need to infuse the wine long enough for the spices to take on the flavour, but must be careful not to boil it. This will bring out the natural bitterness of the wine that will overwhelm the entire drink. By lightly simmering it, you will emphasise the wine's fruitiness, perfectly rounding out the flavours. We recommend serving your mulled wine comfortably warm.
Mulled wine is the perfect comforting choice for a cold December. Nothing says winter like a steaming mug or glass of festive mulled wine.