Burgers are so versatile, making them one of the most popular meals for many of us and because they are so versatile there are so many wines to be matched with them. This week, Ideal Wine Company brings you the ultimate guide to the perfect wines to pair with your burger…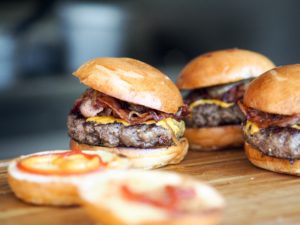 For a classic burger – balance sweet and bitter
Most of us are familiar with the classic burger, with meat, lettuce, tomato and onion, it's a universal favourite. The best wine to pair with a classic burger is one that has an element of bitter and sweet, to create the perfect balance.
For this, we recommend trying a Grenache. This red wine pairs perfectly with grilled meat and suitably showcases the beef of the burger. The berry-flavour and spice of the wine create a great balance between bitterness and sweetness that rounds out the flavour and is soft on the palate.
Take your cheeseburger – focus on tannins and savoury notes
Similar to the classic burger, but with cheese, bringing tang and creaminess to your meal. When looking for a wine to pair with this, the level of tannin is a key element. This acts as a palate cleanser and lightens the heaviness of the cheese. As well, cheeseburgers tend to work well with savoury notes, as this will help to prevent the creaminess of the cheese from becoming overwhelming.
Cheeseburgers are perfect with Cabernet. The good levels of tannins in the wine refresh the palate and keep the flavours harmonious. The flavours of tomato, roasted pepper, blackcurrant and dried leather are savoury enough and better complement the cheese and ground beef combination. A perfectly balanced experience!
If a barbecue bacon cheeseburger is your favourite – look for dark fruits and spice
There's a lot of flavour in a barbecue bacon cheeseburger. Although there is a lot of intensity loaded into each bite, a good rule to follow is to focus on the sauce. With barbecue, you'll want dark fruit and some spice.
For this, there's no better option than a Syrah. The smoky, earthy red works well to bring together the flavours of the burger. It really showcases the sweetness and spiciness of barbecue sauce and creates a good balance between the two strong flavours.
Bite into a mushroom Swiss burger – with something nutty and sweet
This vegetarian option is made up from grilled mushroom and a slice of nutty and buttery swiss cheese. The earthy flavours of these two key ingredients need to be matched by an earthy sweetness to round out the flavours and lighten the dish.
For this, try opting for a Merlot. The fruitiness of the wine is inherently sweeter, which is perfect for pairing with earthy flavours. With aromas of black cherry, berries, plum, chocolate and some herbs, as well as soft characteristics, a Merlot won't overpower the subtle flavours of mushroom and swiss cheese.
When it comes to burgers, there are plenty more to choose from. A good final tip is to stick to red wines when the meat is beef and consider the sauce on the burger when looking for the perfect pair. White's work well with white meat and you can pair both white and red well with vegetarian burgers.