Undoubtedly Indian food is one of the nation's favourite dishes. With intense flavours and heavy spices, Indian meals can be difficult to pair with wine. Add in the wide array of curries, sauces and chutneys on offer and the flavour profile becomes even harder to define. But you can enjoy many wines with your Indian food, which is why this week Ideal Wine Company is bringing you our top tips for pairing Indian food with reds and whites.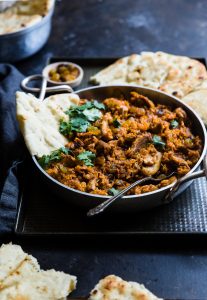 Basics to consider
Bold dishes require simpler wines, that's the main thing to remember. Anything too strong or bold will be competing for dominance. A wine known for its simplicity will help to balance out the flavours of your meal and contribute to a better overall taste.
To help further balance the dish, there are considerations to bear in mind. Look at how spicy the dish is and the base of the sauce. This will give you a good starting point for matching your wine.
Spicy curries and tomato-based sauces – fruity and light
Blending together tomatoes and curry paste is a popular base for Indian curries and creates a highly spiced meal. This combination can be found in common favourites, such as Vindaloo, Masala, Baingan, Jalfrezi and Bharta sauces. As they create a spicy taste, you'll want to counteract this heat and intense flavour. Ideally, do this with something light and fruity that can be served cool. This will allow the spice to remain the dominant flavour, the tomatoes to be complemented by fruity notes and the cool temperature to provide a welcome coolness. For this, try opting for rosé, as its fresh notes of fruit provide a good counter. If you're a red wine drinker, a medium bodied option, such as a Pinot Noir or GSM blend, will provide a depth of fruity flavour.
Green sauces – stick to a classic dry white
These green curries get their colour through leafy greens being slow cooked with cream, onions and spices. Coriander is also prominent in a large variety of these sauces. In doing this, a herby and delicious dish is created. Due to the herbaceous and freshness of this curry, it's best to stick with a classic option. Most herb-dominated dishes work well with a dry white wine that highlights the lean green profile. With these dishes, we recommend trying a dry Riesling or Chenin Blanc. These whites are the perfect option. Should you fancy something livelier, a good dry sparkling wine can make a great match too. Try opting for an extra-brut sparkling wine to match the herbal lightness of the dish.
Cream sauces – tart fruitiness and medium tannins
Whether your sauce uses heavy cream, yoghurt or coconut milk, these dishes usually have a thick sauce. Notably examples are dishes like Tikka Masala, Butter Chicken and Kormas. The cream softens the rich spices, as the fats in the cream absorb and diffuse the spices throughout the dish. As these are usually less heat-driven, they are one of the easiest types of curries to pair with wine. Deep reds with a medium tannin are ideal for cream based curries. Look out for subtle brown baking spice flavours and a tart fruitiness to enhance your dish. A Zinfandel or Carignan is usually a good place to start.
When it comes to Indian food, wines with simple, well-defined flavours are the best option. These are better at creating harmony between your food and drink. Should your Indian food be particularly spicy, there are 3 main traits your wine should have: serve chilled, pair with wine that's lower in alcohol content and drink a wine with some sweetness.