Thai food perfectly balances many flavours. Sweet, sour, salty and spicy all work together in perfect harmony. While this creates delicious food, it can make it harder to find a wine that perfectly matches all of these different notes. Looking for wines that pair with such intricate food is difficult, balancing the bitter and the aromatic. Here are Ideal Wine Company's top choices to serve with Thai food.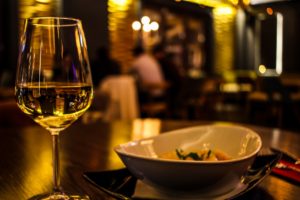 Pad Thai and Riesling – sweet and sour
Pad Thai's sweet and sour noodles bring together a wide range of flavours harmoniously. To perfectly match this, an off-dry Riesling brings a welcome balance. With its dynamic tropical fruity flavours, there is a perfect amount of sweetness and acidity to cut through the spices of the dish.
Look for a Riesling that features jasmine in its bouquet. Picking up on the aromatic notes of the food, jasmine will add an interesting note.
Thai fresh rolls and Torrontés – fresh and lean
These delicious rolls are known for their fresh, crisp and crunchy vegetables rolled together. Due to the simplicity of this healthy snack, as well as the lack of fat, try pairing this dish with something a bit different. A Torrontés brings a sweet smell that works well with the freshness of the vegetables. However, the taste is drier than expected. The lean lightness of this wine brings out the flavour in this healthy choice.
Tom Yum soup and Grenache Blanc – complementing spiciness
A complex, spicy dish such as Tom Yum soup incorporates a lot of flavours and spices. With so much going on, finding a perfect match to incorporate and enhance these flavours presents a challenge. Try serving your soup with a Grenache Blanc. The similar flavour profiles of both dishes help to bring a consistency between wine and food that complements. Both contain flavours of lemongrass, kaffir limes and galangal. An unoaked version of the wine, slightly chilled, makes a perfect match for this delicious Thai dish.
Red/green curry and Gewürztraminer – focus on fragrance
These classic Thai dishes are among the most popular choices for Thai food. Through these two curries are different, they traditionally have the same base of coconut milk, with the colours of the chillies being the key separator. This changes the spice of the dishes, while the general fragrance remains the same across the two dishes. A top tip for matching Thai food and wine is to focus on the fragrance. A Gewürztraminer is perfect for fragrant food. This aromatic grape has an inherently sweet flavour and lower acidity, the lightness of this wine is sure to handle the spices of your curry.
Thai spring rolls and sparkling Rosé – balance your bitterness with sweet
Spring rolls make a great starter for a Thai feast. These light and crispy rolls contain a delicious bitter vegetable filling and can be served with a slightly salty sauce. To brighten up and bring balance to this dish, try opting for a sparkling Rosé wine. This will impart a good amount of fruity sweetness onto your palate, which can cleanse your palate between bites. The bubbles create a refreshing and delicate sip that uplift your spring rolls to new levels.
With Thai food, the fragrance is key. This aromatic mix can help you decide what wine works well, so focus on this. As a careful blend of these flavours that emphasizes the balance of ingredients, look for a wine that harmoniously works with the whole dish rather than single flavours.