Lasagna, the great Italian comfort food, is always a crowd pleaser. The layers of pasta, meat and sauce always go down well. But did you know there are so many types of lasagne? Beyond the traditional tomato and béchamel variety, there is a wide range of varieties that include a creamy white sauce and a pesto-driven option. This week, Ideal Wine Company is showing you some of our favourite lasagnes and what wine to serve with them.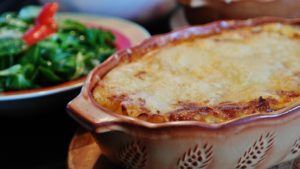 Red lasagne– high acidity and dried fruit
Perhaps the most common type of lasagna, red lasagne is usually the first variety to come to mind. With its traditional tomato and béchamel sauce combination, it is stuffed with mozzarella, ricotta and meat. This hearty and warming meal works well with an equally intense red wine. Try opting for Aglianico, a black grape wine found in the South of Italy. This wine's high tannin content complements this rich and fatty dish. In addition, the dried fruit flavours and the high acidity work perfectly to cut through the slightly sweet tanginess of the hearty tomato sauce.
White lasagne– look for leanness
If you're looking for something a bit different with your lasagna, a white lasagna, or lasagne blanca, is a great alternative. Rather than using the traditional bolognaise tomato sauce, a white lasagne consists of peas, mushrooms, Italian sausage and a creamy white sauce. With this type of dish, you should be pairing it with a wine like Arneis. This Piedmontese grape is a zingy and lean white wine that acts like a herb. When served with béchamel or other creamy white sauces, it infuses the dish with earthy and unmistakable green notes. With the amount of heavy creaminess in this dish, the wine's lean and olive driven qualities are sure to cleanse your palette.
Pesto lasagne– opt for rich and white
This pesto-based alternative of traditional lasagne combines parmesan cheese, basil, pine nuts and olive oil. The result is a dish that is full of flavour and aroma. If you're serving this dish with wine, you can't go wrong with a Vermentino. This equally lean and green option is dry, a touch oily and just bitter enough to provide the perfect partner to the fragrant lasagna. This Italian white provides the perfect aromatic hints of herby green to complement the pesto.
Sangiovese – the universal choice to pair with lasagne
If you're eating any type of lasagna, Sangiovese is perfect. This really is a one-bottle-suits-all type of wine. In almost all cases, the tart and savoury wine drinks well with the intensity of lasagna. This is because the high acid and rustic flavours you can expect in Sangiovese will cut through the creamy fat and tangy tomato at the same time.
This really is the perfect choice for any type of lasagne. It's always worth having a bottle to hand next time you make any type of lasagna!
No matter what your favourite type of lasagne is, you'll easily be able to find the perfect wine match. Take a good look at what flavours and textures the sauce is bringing. A good rule to follow is to pair creamy sauces with lean wines and lean sauces with richer offerings. With so many lasagnas to try – and wines to pair them with- you'll find the perfect choice for you.