We all know the classic pairings for Champagne. From caviar to oysters, these traditional options are tried and tested delights. But why not try something new or perhaps a little unusual? There are a wide range of foods that pair perfectly with Champagne and step outside the ordinary. This week, Ideal Wine Company brings you some alternative ways to pair Champagne with food.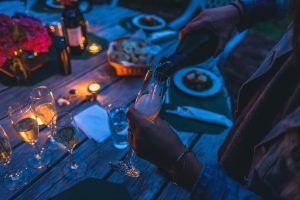 Macaroni Cheese – soft and creamy match made in heaven
When thinking of food to serve with Champagne, macaroni cheese may not be the obvious first choice. But when the balance of flavours is right, these two work together incredibly well. There are a few important variables to perfect with your pasta before this can work. Make sure that your cheese is not too sharp, so consider opting for a softer creamy cheese with flavour. A good smoked gouda is perfect. When it comes to the Champagne, your wine needs to be acidic enough to cut through the cheese. Balance is key to pairing Champagne and macaroni cheese, but a great rule of thumb is to keep the cheese soft and let the wine be slightly bolder. The perfect comforting pairing!
Spring rolls with spicy sweet chilli sauce – opt for sweetness
This popular dish is often a snack or starter and can make a surprisingly good pair for Champagne. The goal of this balance is to reduce the fat of the spring rolls and increase the lightness of the vegetables. To do this, look for a Champagne with low acidity and opt for a big bubble finesse. A good rule to remember for pairing spring rolls and Champagne is to meet spiciness with sweetness. The more heat you add, the sweeter your Champagne should be. This provides a delicious balance that is unexpected but delicious.
Fried mushrooms – look for fruity and earthy notes
Although it may sound unusual, Champagne and fried foods are the perfect pairing. The greasy richness of these foods is elevated by the sweet bubbles of Champagne. A great example of this is fried mushrooms. Try opting for a Blanc de Noirs, a white sparkling wine made with dark grapes such as Pinot Noir. The earthiness found in mushrooms is complemented by the rich fruity and earthy notes that can be found in options such as a Blanc de Noir. A slight sweetness will go a long way in lightening this dish.
Fish tacos – high acidity for zingy food
Fish tacos present a wide range of flavours. From zingy lightness provided by the limes to the heat of the chilli to the subtly of the fish, there is a careful balancing act of flavours in place. A super dry and crisp Champagne will fit perfectly into this. These wines have little or no added sugar, meaning they'll keep up with the zesty flavour of the dish. If the fish has lime or salsa added to it, it's key that you find a Champagne with even higher acids. This means the wine will taste bright. As well as this, look for a good sharpness and minerality prevents the wine from tasting too flat. With a good balance, Champagne and fish tacos create a light and lively pairing.
Don't be afraid to 'think outside the box' when it comes to your Champagne pairings. While the classics work well, there are plenty of alternative pairings that can widen your use of Champagne. There's no longer any need to save the Champagne for special occasions!