Christmas dinner is undoubtedly one of the most important meals of the year. While you may have decided what wine to serve alongside your classic turkey dinner, starters offer more variety and therefore more trouble. With so many options to choose from, it can be a bit daunting to find a wine to match. At Ideal Wine Company, we've compiled a list of perfect starter and wine combinations that'll earn their place at the Christmas table.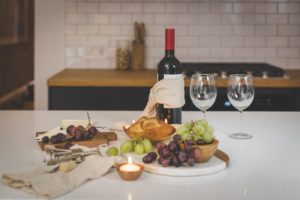 Smoked salmon and Riesling
A classic choice for a Christmas starter, this option pairs well with a light crisp white wine. Try pairing with a dry Riesling. Its vivid green apple flavour works especially well with the fish. The sweetness of a Riesling highlights the smoky taste. Acting as a palate cleanser between bites, the natural acidity of the wine counterbalances the fat content of the fish. A good tip to remember when buying a Riesling for smoked salmon is to avoid sweeter or medium dry varieties. The smoky flavour can overwhelm these options, while a dry Riesling softens and rounds these flavours perfectly.
Roasted pumpkin soup and Chardonnay
A hearty soup is a real crowd-pleasing favourite. Taking the flavours of the season, this creamy starter offers strong and rich flavours. With pumpkin soup, try offsetting this velvety starter with an oak-aged Chardonnay. A medium-bodied option should provide a bright acidity to contrast the soup. The layered light fruit and toast character of the wine provides a refreshing note. This stops the creaminess of the soup from becoming overwhelming, without overpowering it. A perfect pairing for a festive feast.
Grand Marnier paté and rosé
Featuring pork, duck and chicken liver and finished with an orange liqueur and orange slices, this paté packs a lot of flavour. With so much going on, it can be difficult to pair this wine with one specific wine. For this reason, we suggest going with an option that combines elements to fit the variety of flavours. We recommend trying this paté with a rosé wine. Look for a medium bodied variety that has the refreshing texture of a white wine, while also bringing a somewhat deep flavour that is more typically found in a red. This hybrid wine perfectly matches the rustic and hearty offering of paté.
Beef carpaccio and champagne
At Christmas, don't be afraid to try something a bit different for your starter. A fresh tasting salad made from beef carpaccio is a perfect solution if you're looking to make a change. With its slightly salty taste and leafy greens, this is a light option. For this reason, it's best not to choose too strong a wine. Try a Champagne or similar sparkling wine, as these pair surprisingly well with raw beef. Its natural sweetness perfectly brings the entire dish together. What is Christmas without a glass of Champagne?
There are plenty of starters you can bring to your table this Christmas, with an endless variety of wines to pair them with. We recommend choosing lighter options for the first course, to bring a subtlety to a traditional rich meal.