In the runup to the summer months, cocktails are coming back in full swing. Some of the most iconic cocktails also have the simplest recipes – easy to follow so you have more time to sit and relax! Ideal Wine Company discovers the trick to making a perfect Mimosa for the upcoming summer months.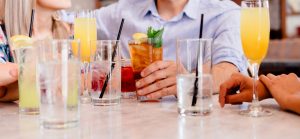 A bit of background
A Mimosa is one of the most popular cocktails, with citrus tones it is a refreshing summer drink to enjoy with family or friends! It is traditionally served in a tall champagne flute at brunch, and is composed of equal parts of champagne (or an alternative sparkling wine) and a chilled citrus juice. It was believed to have been invented in 1925 in the Hôtel Ritz Paris by Frank Meier. It is thought to be named after the common name in Europe for the yellow flowers of Acacia Dealbata. Similar to a Mimosa, Buck's Fizz is a variation made with twice as much champagne to orange juice.
The recipe
If you have the time, using freshly squeezed orange juice will leave a lighter, tarty flavour on your palate. It is more delicate than shop bought orange juice which means it makes your Mimosa more enjoyable and tasty!
A classic Mimosa recipe uses equal parts sparkling wine to orange juice, this is the perfect ratio for this tasty cocktail. However, if you are making Mimosas for a party or large group of friends, using less wine will make sure you get maximum usage whilst saving too. An alternative to save on wine but still get enough of an alcohol to juice ratio, is to add a splash of orange liqueur.
When making a Mimosa, the number one rule is to always pour the sparkling wine first before topping with the orange juice. By doing this it ensures that the cocktail has the chance to mix together on its own, which avoids a sticky mess at the top if the glass! There is no need to stir the cocktail either as this will cause the wine to become flat.
Top tips
A top tip for making a Mimosa is to use a dry sparkling wine rather than a sweet one. Spending around £10 on a sparkling wine is advised for a good quality; as well as this using Cava from Spain is an affordable choice. Alternatively, a dry Prosecco is a great option for a Mimosa if Cava isn't your drink of choice. Another top tip is not to go too cheap in your choice of sparkling wine, this won't help your drink have delicious taste it should.
A key tip when making a Mimosa is to never serve it warm, the wine and orange juice should be kept refrigerated until they are ready to be served. After pouring the first round, place back in the fridge to keep them chilled and fresh.
Stocking up
If you fancy spending your weekends making delicious Mimosas ready for the summer months, why not visit the Ideal Wine Company Champagne section. Or alternatively Prosecco from the Burke's Peerage Selection.