Winter is the perfect season to stay in and enjoy wine. Here's what Ideal Wine Company is reaching for when the temperatures drop.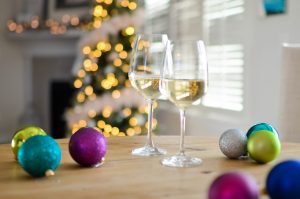 Nebbiolo – pleasant with surprising form and grip
Nebbiolo is a deceiving wine. While its appearance is pale and pleasant, it is often compared to a Pinot Noir, it has many unexpected qualities. With a high acidity and grippy tannins, which give the wine form and grip, you won't forget this red quickly. Showcasing complex rose, cherry and leather flavours, this complex wine will keep you satisfied. It pairs well with winter squash, mushrooms, truffles and charcuterie, making a perfect accompaniment to plenty of winter foods.
Sangiovese – earthy and rustic
A high-acid and high-tannin Italian wine is a must have for this colder and darker season. A traditional Sangiovese is the perfect wine to enjoy with all kinds of winter foods, including roasted winter vegetables and hard cheeses. Its earthy and rustic notes bring smoky overtones to the glass. As well, its complex nose is perfect for sitting and sniffing as you relax.
Shiraz – rugged and fruity
When it comes to winter, we all enjoy something a bit more hearty and powerful. A Shiraz is the perfect answer to those needs. Described as big and brooding, this red is an ideal warmer. It is known for its powerful black fruit flavours and savoury undertones. It has a high ABV (coming in at around 14-15%) but if you can't indulge at Christmas, when can you? It's not for the faint of heart, but is a delicious choice for when it's cold outside.
Cabernet Sauvignon – an undeniable classic
Cabernet Sauvignon is such a classic, it's almost seen as a cliché this time of year. This speaks to the popularity of the wine this time of year. Undoubtedly a favourite of many, this wine is a layered and complex option. Pairing well with a seasonal roast and red meat, this fruity red is a staple of the season for good reason. Try an Old World variety for a surprisingly subtle option.
Chardonnay – rich and buttery
An oaked Chardonnay works well with the hearty food of the season. It's lightness cuts through the richer fare and provides a palate cleanser between bites. This works particularly well with turkey, sea bass and gruyere cheese. Rich and buttery, this full-bodied white has dominant flavours of vanilla, butter and caramel, with a touch of citrus. Reminiscent of other holiday favourites, such as eggnog and hot buttered rum, a Chardonnay will pair wonderfully with your Christmas feast.
Champagne – light and refreshing
To add to a thoroughly festive season, Champagne brings a party atmosphere. It is light and versatile, providing a refreshing quality that is often overlooked. When it comes to winter food, it pairs well with so many favourites, from Christmas ham and bacon to cheeses and nuts. Whether you want to enjoy this at a party or celebrating at home, Champagne provides the perfect uplift to cure any winter blues. Try on Christmas Day or New Year's Eve to properly celebrate the occasions!
With all the wines this time of year, it's important to find one suited to your needs. A bold red is always a popular winter warmer, while a refreshing white provides a welcome respite from heavy foods and drinks this time of year. With many of us spending more time indoors due to the cold weather, what better way to do it than with a glass of wine?