The festive season is nearly upon us, the perfect excuse to enjoy a glass or two by the fireside. Here at Ideal Wine Company, we have our perfect picks for you to enjoy with family and friends.
With fireside wines, we're always drawn to big earthy powerful reds. The cold weather is naturally paired with a robust red, with the body and structure to compete with hearty food. Fruitiness, weight and richness help to provide much-needed warmth.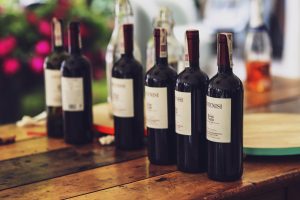 Amarone – bright and juicy
An iconic Italian wine, this typically dry red is made from the partially dried grapes of the Corvina. The blend is fermented then refermented, giving the wine rich and complex flavours. Concentrated redcurrant and cherry flavours can be detected. The brightness of these fruits pairs well with the subtle notes of clove, cocoa and spiced vanilla. This provides a structured taste, with juicy tannins providing a satisfying finish.
Ribera del Duero – smooth and luscious
This full-bodied red offers a real flavour of the Spanish countryside. The oak ageing adds notes of vanilla to the wine's natural blackberry and herbal flavours. Its smooth and luscious structure provides a long finish. This wine is perfect for firesides or with a hearty casserole, ideal for the colder weather.
Syrah – complex and fruity
Providing plenty of character, intensity and complexity, this variety produces an inky depth of flavour. By nature, it is a big red. Its strong fruit flavours bring the rich and sturdy structure a delicious warmth. Try pairing this wine with a meat dish or even a mince pie, as the juicy fruit provides the perfect counterpoint to heavily spiced dishes. The acidity, tannins and richness create a mid-palate complexity that will be well-received by all your guests.
Bordeaux – fragrant and ripe
A great and classic choice for the festive season. This wine is a fine accompaniment to festive meat, with its fragrant and ripe taste. With a great balance and a velvet finish, it offers notes of chocolate, black cherry, spice and vanilla. An ideal combination for winter's spiced treats.
Carignan – warm and intense
Originating from southern France, this wine is famous for its robust and intense flavour. This blend is perfectly balanced with concentrated aromas and flavours of blackcurrant, plums and brambles from the Grenache. A warm clove spice creates a rustic and smoky nuance. The full-bodied fruitiness, aroma and tannic structure create a warming wine choice. This wine is a perfect match for a charcuterie or cheese platter, making it the perfect choice to try for a festive party.
Carmenère – a subtle spiciness
This medium-bodied French wine is often noted for its smoky, spicy and earthy aromas. Its berry and mocha notes provide a richness that is rounded off with a subtle blend of spices. Working well with hearty dishes such as casseroles and chilli, this wine is the perfect winter warmer.