It is commonly agreed that the shape of a wine glass affects the taste of the wine. Many generations of wine connoisseurs and wine experts, along with wine lovers, have debated over which wine glass shapes are best suited to a particular wine. Ideal Wine Company review how the shape of a wine glass can impact the taste of your wine.
The basic shape of a wine glass is designed for optimum wine drinking. The sides usually bow inwards towards the rim, which means that we point our noses towards the centre of a glass. This reduces the harshness of the gaseous ethanol, or alcohol, making wine aromas more distinct.
This shape is key to how we drink. When you drink, you tilt your head differently, depending on the shape of your glass. With wide rimmed glasses, you lower your head, but when drinking from a narrow rim you tilt your head back. These different positions change the speed of the wine hitting your tongue, as well as the intensity of the aroma while drinking. The intensity of wine aromas also strongly correlates with the ratio between the diameter of the glass cup, at its widest point, to the diameter of the opening.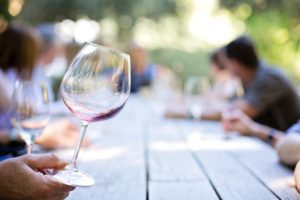 Taste Test
This theory was put to the test, to see to what extent the shape of a glass changed the taste of a wine. Using a Cabernet Sauvignon as an example, the same wine was sampled from two different glasses. Both Riedel, one glass was a traditional Bordeaux glass while the other was designed for Cabernet/Merlot.
The Bordeaux glass
This glass had a larger and less round opening. The large opening caused the wine to hit the palate all at once, softening the acidity of the wine and causing it to taste more monolithic. This caused the wine to taste smoother and less fruity, with the taste not persisting as long on the palate. The less round bowl caused the aroma to be less intense. This wine was kept smooth yet resulted in more muted aromas. This glass would be a good choice for bold, European reds.
The Cabernet/Merlot glass
In comparison, this glass had a much smaller rim and a rounder bowl. Due to the smaller opening, the wine hit the palate in one centralised place and expanded outwards as you tasted it. This caused the wine to taste more acidic and made the taste persist longer in the mouth. The round bowl did a lot to collect the aromas in the glass and funnel them into your nose. The wine smells more intense as a result.
What to Look For
As the test shows, the taste of wine changes with the glass that is used. Make sure to match your wine glass to both what you are drinking and to highlight the notes you want to make dominant. While taste is personal, it is traditionally advised to stick to smaller bowls for white wines and larger bowls for red wines.