Brunch has something for everyone. This mid-morning meal is now growing in popularity as an indulgent treat – and we're here for it! From sweet to savoury dishes, it's a perfect meal. While many of us opt for a classic buck's fizz, there are so many more wine options available to you. When you're planning your next brunch, make sure that you've got the perfect bottle of wine as an accompaniment. Let's look at some of Ideal Wine Company's favourite pairings for brunch…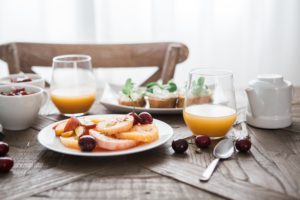 Avocado on toast – Sauvignon Blanc
This simple brunch dish has taken off in recent years. Now one of the most popular offerings on any menu, avocado on toast is a must-have for any brunch. No matter what your bread, from simple wheat bread to sourdough, the topping of smashed avocado makes the perfect savoury treat. To match this, look for a Sauvignon Blanc as a great starting point. It is the perfect wine for the avocado ensemble as it plays up the green theme and adds well-needed acidity – like a squeeze of lemon.
Blueberry pancakes – Moscato d'Asti
If you're in the mood for a sweat treat this brunch, look no further than blueberry pancakes. These fluffy offerings are light and full of sweet blueberry flavours. Although delicious, they can mean that you're facing a lot of dough. To combat this, your wine should be light and sweet to match the dish. A Moscato d'Asti is a vibrant wine, with flavours of nectarine, honey and peach acting as the perfect complement to this berry-heavy dish.
Eggs Benedict – Prosecco
Eggs Benedict is a brunch classic. It's a perfectly toasted English muffin halves topped with crispy bacon, a perfectly poached egg, and a generous pour of creamy hollandaise sauce – a delicious addition to any brunch. With the creamy flavours and variety of flavours on offer, you may think it's a hard dish to pair, but it all comes down to knowing what you're looking for. Importantly, you should be adding sweetness to your dish – but not too much. The perfect choice would be an Extra Dry Prosecco. Bringing just a hint of sweetness, the fruit flavours in this crisp wine bring an ideal balance to the dish. With its acidity, you'll even find your palate cleansed between bites.
Yogurt and Fruit – Gewürztraminer
It's a breakfast and brunch dish that has been enjoyed for decades – but has recently started gaining traction as a popular food trend. With a base of yogurt and a wide range on toppings on offer, from bananas to honey, this healthy option is a great alternative if you're looking for something lighter.
For this pairing, you should focus on a wine with strong aromatics. This is because yogurt offers very little in the way of aromas, and thus, aromatic wines can really add more perceived flavour to the dish. Gewürztraminer with its intense aromas of lychee, rose, grapefruit and allspice will really take your everyday yogurt bowl to the next level.