If you're new to the French wine culture, fear not as Ideal Wine Company unravel the discussion that is Bordeaux vs Burgundy. Both Bordeaux and Burgundy are French wines, from two of the world's most influential and distinct wine making regions.
Bordeaux and Burgundy are two of the greatest wine making traditions in alcoholic grape juice history. The ongoing battle over which is more superior to the other still influences many wine lover's choices, but what is the true difference between Bordeaux and Burgundy?
Bordeaux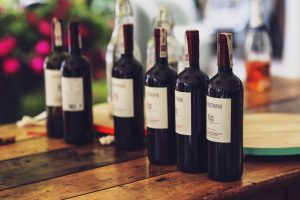 Bordeaux is a polished, righteous wine with blends of Cabernet and Merlot. Bordeaux, much like Burgundy, has an iconic bottle shape of high right-angled shoulders.
The Bordeaux wine region was founded by the Romans, as a port city it boasts access to trade and wine distribution. It has its famous left and right banks and five classifications, it is best known for its red wine (typically Cabernet-Merlot based wines). These red wines are then able to be blended with support from Cabernet Franc, Petit Verdot and Malbec – white Bordeaux is made from a blend of Sauvignon Blanc and Sémillon.
Burgundy
Burgundy is a finicky, sublime Pinot Noir and Chardonnay wine – along with Bordeaux wine it also has an iconic bottle shape of a sloping hunch. Burgundy is a land-locked area in France's north-eastern region; Burgundy has 74,000 acres of vineyards to Bordeaux's 300,000. Burgundy has Grand, Premier Cru and Villages designations which are smaller family-owned operations which make up a large proportion of the regions vineyards.
Burgundy also includes Chablis and Beaujolais; however, each region has a distinctive style that separates it. Burgundy is well known for both its white and red wine with the main grape varieties being Chardonnay and Pinot Noir. Wines of the Beaujolais are not typically held in high esteem however many of the Cru Beaujolais wines are considered of good quality.
So, which is better?
Neither wine is considered worse than the other, in fact it is simply down to personal preference and taste. Bordeaux is a formerly popular wine that is being challenged by Burgundy the new rising star of French wines. Bordeaux has been open to heavy foreign investments, whereas Burgundy is family owned.
Due to the increasing popularity of Bordeaux, the price of the wine became expensive due to popular demand; now it seems Burgundy is heading in the same direction – opening itself up to foreign investment.
If you're inspired to try out a Bordeaux or Burgundy wine, visit Ideal Wine Company's Bordeaux and Burgundy ranges on our website.