With January assigned as the month for resolutions and change, many of us are trying to go without meat this month. But as the 'Veganuary' campaign encourages more of us to try a vegan diet, we're met with the assumption that wine pairing with vegan or vegetarian food is limited. Ideal Wine Company is here to dispel this myth. This week, we're bringing you top tips and ideas for pairing vegan and vegetarian food with bold reds.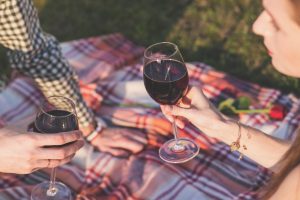 Think of wine as an ingredient
Trying to incorporate wine into your dish can be difficult. While we're met with an extensive list of wines that pair with meat, removing this element makes the process a little bit harder. Breaking down wine into its structural taste components, such as sweet, bitter sour, will help you to understand what the wine is bringing to your meal. Treating it as an ingredient will ensure that you approach wine as something actively involved with your food. As the goal of pairing wine and food is to balance out key flavours, knowing what your wine is adding to the mix is key.
Know the taste profiles of a bold red wine
Bold red wines bring a great deal of power and flavour to food. To pair a bold red with vegetarian or vegan food, it is important to understand the fundamental taste components of the wine.
Bitterness: You can discover how bitter your wine is by looking at the pigment and tannin. High quantities of these two elements add bitterness and astringency to wine, which has a palate cleansing effect. The features of bitterness need to be offset with your food. Try pairing caramelized roast vegetables with a wine with a slight bitterness to balance the dish.
Acid: Full-bodied reds are typically acid, so often contain a fundamental sourness. Take advantage of this by letting your wine act as a balancing force. With acidic wines, baked grains, fruit and roasted vegetables are key ingredients that offset sourness.
Intensity level: There's no doubt that a full-bodied red is a bold choice. To compete with your wine choice, your meal will need to have a similar level of intensity.
Ideas for pairing:
Malbec – robust tannins perfect for bold flavours
Bringing fruity notes, a medium to full-bodied is known for flavours of blackberry, cherry and plum. These rich and dark notes are often complemented by notes of leather and a sweet tobacco finish. With these strong flavours, a Malbec will stand up well against spices. Opt for pairing your Malbec with Cajun flavours, baked potatoes or black pepper.
Try serving Malbec with a cauliflower steak. Simply a large cut of cauliflower that is roasted, it can be treated similarly to a steak and paired with seasoning and sauces of your choice. A Malbec will easily handle any spices and provide a welcome pep to your dish.
Pinot Noir – fragrant and herbal
This silky red is known for intense flavours of ripe cherries, summer berries and wild strawberries. This lush tasting wine works well with mushrooms, legumes and fruit-based sauces. Suited to light food, a Pinot Noir is ideal for Mediterranean and Asian dishes.
This means a Pinot Noir will pair perfectly with a green lentil curry. The fragrant and herbal notes of the wine will complement the spices on offer in the hearty Indian dish.
Beaujolais cru – juicy and acidic
Made with Gamay Noir Grapes, this French wine has primary flavours of raspberry, tart cherries and cranberries. With notes of mushroom, smoke and violet, this wine provides a good balance of earthiness to your dish.
Try pairing your dish with ratatouille. The collection of vegetables in the dish, from tomatoes to aubergine, are matched perfectly by the smokiness and slight fruitiness of a Beaujolais cru. This allows the variety of vegetables to interplay perfectly, while the wine still provides balance.
Just because your diet is meat-free, it doesn't mean you must give up red wine. These dishes can definitely stand up to a bold red, so don't be afraid to be bold with your flavours too. It's also important to remember to also look that the wine itself is vegan or vegetarian. With all this in place, your vegan or vegetarian diet can be complemented by the perfect red.