As the months get colder, it's always an excellent idea to reach for warmer and heartier food. As the natural choice, soup works as a nourishing winter warmer but can be hard to pair with wine due to the interplay of broths and flavours. Here at Ideal Wine Company, we have plenty of recommendations for pairing your soup with wine. This week, we bring you the perfect wine and soup pairings for this season.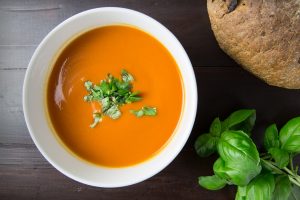 Pea and Ham Soup with Riesling
Whether you prefer pea and ham soup thin or thick, Riesling pairs well with this simple dish. The honeycomb and beeswax notes of a Riesling pair well with the ham, as it has similar flavours to a traditional ham glaze. The minerality and sweetness of the wine also works as a palate cleanser between bites, heightening a humble meal. We recommend a classic, off-dry Germain style Riesling for this dish.
Indian Red Lentil Soup with Cinsault
While it is often recommended to use white wines or Gamay when pairing with Indian Cuisine, Cinsault pairs perfectly with this dish. Columbia Valley interpretations are fresh, fruity and slightly smoky, elevating the hearty and delicious flavours of the soup.
Butternut Squash Soup with Gewürztraminer
A crowd-pleasing wholesome meal, Butternut Squash soup pairs well with Gewürztraminer. This semi-sweet, aromatic white wine, with notes of cinnamon, ginger and honey, pair wonderfully with the silky texture and spice of this soup.
French Onion Soup with Beaujolais
This classic French comfort food works well with a classic pairing, Beaujolais. The flavours of plum, cherry and peach compliment the distinct sweet flavour of slow-cooked onions. The acidity of the wine should cut through the broth too. We recommend a Cru variety, as they are known for their lighter style and won't be too heavy when paired with a hearty dish.
Tom Yum with Grenache Blanc
Tom Yum soup has many hard-hitting flavours. Using lemongrass, kaffir limes and galangal, you may think it's difficult to pair a wine with this complex, spicy dish. However, an unoaked Grenache Blanc and Tom Yum pairs perfectly together. The flavour profile of a Grenache Blanc is similar to Tom Yum, also having notes of lemongrass and galangal, meaning the dish and the wine complement each other and produce a heightened flavour profile.
Beef Stew with Carménère
A staple of colder months, a tender and familiar beef stew is the perfect comfort food. It is popular to combine with full-bodied reds like Cabernet Sauvignon, with these wines working well with the beef of the dish. However, if you want to try something new, opt for a Carménère. A medium-bodied Carménère can add a much-needed dimension to this dish, especially if peppercorn and herbaceous notes are dominant in the stew. When shopping for this wine, we advise avoid any 2016 Chilean vintages.