Wine and Italian food is a famous pairing. The rich notes of red wine or the light notes of white often work to enhance the flavours of your meal. But what should you look out for when pairing wine with a dish? Ideal Wine Company has plenty of recommendations to perfectly match your wine to your meal. It is best to focus on the sauce, to get the best pairing and so we've kept this in mind in our list of the best reds and whites for every occasion.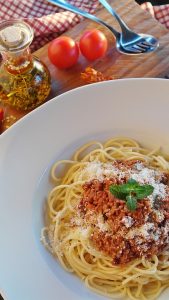 Cabernet Sauvignon – hearty and rich
The primary taste of Cabernet Sauvignon is blackcurrant, but other overtones include blackberry and mint. This hearty and rich red wine pairs best with tomato-based red sauces, complimenting the richness of the sauce. This pairs well with lasagna as it balances the richness of the dish.  Try a medium-bodied Cabernet Sauvignon to really balance your dish.
Sauvignon Blanc – crisp and acidic
Sauvignon Blanc is typically very light, with notes of grass and apple and a soft, smoky flavour. This acidic white wine tends to be crisp, making it a nice match for a cream based sauce, balancing the richness of the dish. This would work well with a Pasta Alfredo, as it would cut through the creaminess of the sauce.
Pinot Noir – light and versatile
This delicious and earthy French wine is one of the most well-known red wines to pair with Italian food. It is a light red wine, with flavours that include earth, vanilla and jam. Its versatility makes it work best with a tomato-based red sauce and it also pairs well with a variety of Italian food. Try this with a pesto dish.
Chardonnay – an adaptable white wine
Chardonnay can taste semi-sweet or sour, heady or light, depending where the grapes are grown and how it's processed. Typically, the flavours include apple, tangerine, lemon, lime, melon and oak. Like most white wines, it is best paired with cream or oil-based sauces, such as a Carbonara. However, a Chardonnay can also work well with a light tomato-based red sauce.
Italian Chianti – strong and bold
Chianti is a red wine from Tuscany and is one of the most popular wines among Italians, as it perfectly complements a wide range of Italian food. It is perfectly suited for flavourful, well-seasoned sauces, such as Bolognese, due to the strong and bold flavours. It pairs best with tomato-based red sauces but also works well with cream or oil-based sauces.
Riesling – ideal for light sauces
Riesling is usually made to be a sweet wine, but can also create a dry wine. The taste of this wine is usually affected by where it is grown, as Californian Rieslings tend to be dry and have a melon taste, while German Rieslings are tarter and have a grapefruit flavour. Dry Riesling is an ideal wine for vegetarian dishes or light sauces, in addition to seafood and chicken. Often, it is best to pair a dry Riesling with simple fish, chicken or pasta dishes that have some acid to them. Particularly, this pairs well with a risotto, complimenting the delicate flavours without overpowering them. It is best to avoid pairing this wine with any strong sauces, especially those that are tomato-based.