Spring is officially upon us. This means one thing – it's the start of barbecue season. Okay, so it will be when the rain stops, but over the next few months we'll be firing up the grill whenever we can.
Ideal Wine Company loves a great barbecue , and this week's blog is all about pairing delicious wines with mouthwatering dishes straight from the grill. Let's get started.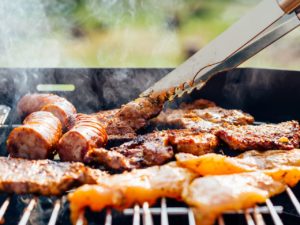 Grilled meats and a good red
When we talk about grilled meats, we mean everything that isn't fish or poultry. As a general rule, red wines pair beautifully with barbecue-grilled meats. This is because of the umami (cooked meat's savoury taste) and the high-fat content of grilled meats, which will help to balance out the tannin in red wine. Here are the basics you need to know when you're just focusing on pairing a wine with the meat.
Pork: You're often seasoning this meat with sweet, spicy, smoky, and tangy flavours and matching sauces. In this case, you can use your wine to balance the smoke and spice of your grilled pork with something fruity that has similar smoky-spicy flavours. For example, a Zinfandel that's medium to full-bodied with plenty of backbone will do the trick.
Red meat: Whether its steak or burgers, red meat plays a big part in most barbecues. For these rich options, its good to stick to a classic rule: red meat works with red wine. Think about opting for a full-bodied drink to match the strong flavours of red meat. A Tempranillo, Cabernet-blend, Sangiovese, or even a good GSM Blend will work well with barbecued red meat.
Chicken or fish with a light white
When you're barbecuing, chicken and fish are usually great lighter alternatives to red meat. There are a number of ways to serve these delicious options, but we're taking things back to basics for our recommendations.
Simple grilled chicken: It may be a basic dish, but it's popular at a large number of barbecues. This crowd-pleasing fayre works well with an equally gentle wine. Try your grilled chicken with a Sauvignon Blanc, or even Verdejo. They are citrusy, sometimes, grassy, and almost always light. For this dish, you'll want to work with simple flavours to create a clean and well-balanced finish.
White fish: This is a simple and delicious addition to any barbecue. Due to the light and delicate flavours of the dish, you'll want to balance this with your wine. A Friulano or Verdejo is a perfect choice here. Their light and citrusy notes add to the flavour of the white fish, without overwhelming it.
Salmon: As one of the meatier fishes, salmon can take a bit more flavour than white fish. Yet its still recommended to stick with a white wine to act as a palate cleanser and not overwhelm the dish. White Rioja and Chardonnays are perfect to pair with salmon. With their peach flavours and smooth texture, this wine provides a tangy acidity and fresh finish.
When in doubt with chicken or fish, its hard to go wrong with an oaked Chardonnay – it's the perfect fail-safe!
Switch up your wine choice according to your choice of sauce
If you're adding sauce to your meat, it's a good idea to focus on this when weighing up your wine options. For meats such as chicken, the sauce can become the key flavour of the dish. We've rounded up three popular barbecue sauces and given our best wine recommendations based on their most prominent flavour.
North Carolina Barbecue Sauce (sweet): Petite Sirah, Monastrell, Tannat and Pinotage are always great starting points for this sweet and tangy sauce.
South Carolina Barbecue Sauce (spicy-mustard): Working well with beef and pork, this sauce is a must-have addition to pulled pork or brisket. Opt for Aglianico, Sangiovese or Montepulciano d'Abruzzo.
Kansas City Barbecue Sauce (classic): Carménère, Cabernet Franc, Cabernet Sauvignon or a Cabernet blend are classic staples for this popular – and delicious – sauce.
Now that we can (hopefully) look forward to good weather, its time to break out that grill. With tasty barbecue food and a delicious accompanying wine, we can almost taste and smell summer!